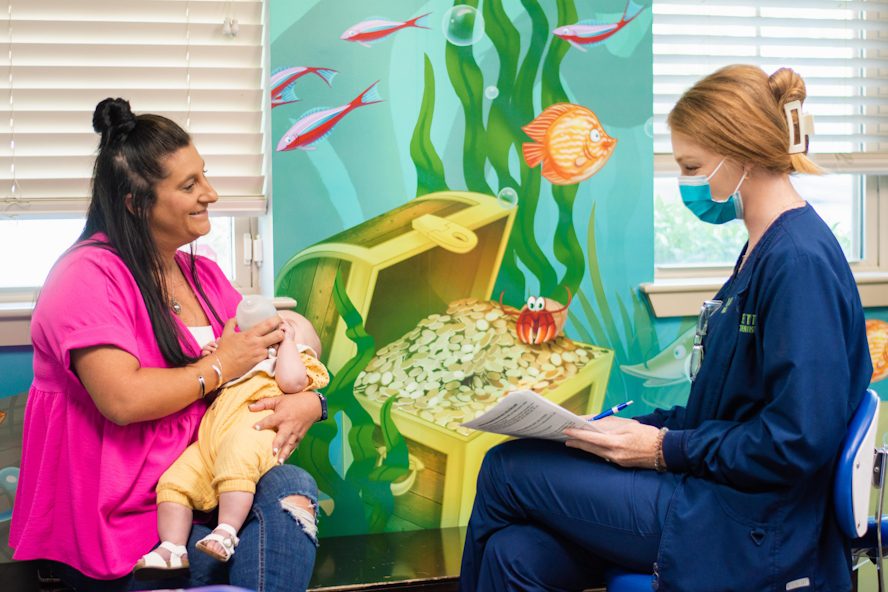 As infants and children grow, it's important to ensure their development proceeds smoothly. Unfortunately, certain conditions such as a restricted tongue or enlarged tonsils/adenoids can potentially limit children's ability to eat, sleep, speak, or breathe properly as they grow up if not addressed early.
For example, an untreated restricted tongue may lead to orthodontic issues, sleep apnea, and difficulty pronouncing sounds such as "th, z, r" and "L".
Catching these developmental issues early on is key to ensuring that your child grows normally and enjoys a pleasant childhood well into adulthood.
That's why we offer feeding, speech, and airway screenings for newborns and infants. Our screenings track our patients' eating habits and examine their tongues and airways to identify risks for food aversions, sleep apnea, and future speech challenges.
We also encourage parents to schedule their child's first dentist visit before their first birthday to enable early intervention if any of these issues arise!
The Leading Provider of Pediatric Feeding, Speech, and Airway Screenings in Lafayette, LA
As one of the few dentists in the Lafayette area offering these pediatric screening services, LPD is equipped to get your child's development off to the healthiest start.
In addition, we offer in-house tongue- and lip-tie revisions using advanced laser technology for patients who would benefit from these procedures.
We also work closely with speech therapists, myofunctional therapists, and other specialists to whom we refer patients when needed to achieve optimal outcomes.
If you'd like to learn more about our pediatric feeding, speech, and airway screening services, contact us today at 337-443-9944 or request an appointment online. We're here to ensure your child's oral health and developmental needs are fully met.