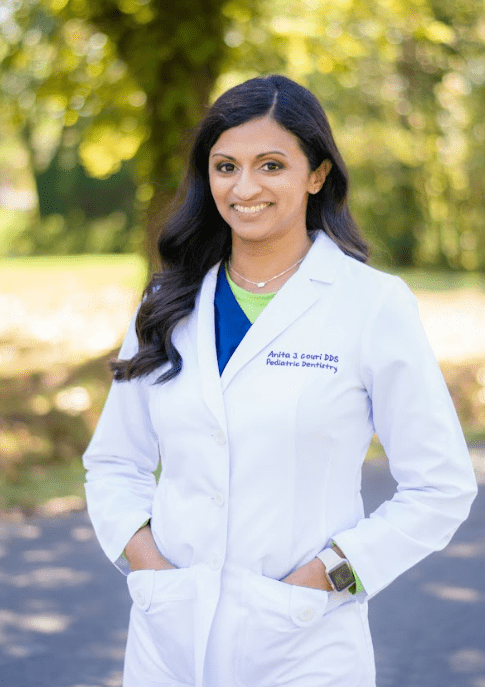 As a pediatric dental specialist, I treat each child as if they were my own, and I put myself in each parent's shoes.
I love working with children, because of their stories, their innocence, their candor – and am dedicated to providing worry-free, painless dental experiences for each of them.
~ Dr. Anita Gouri
For Dr. Gouri, making a difference in a child's life – whether she is helping them overcome dental fears, helping a mother and child on their breastfeeding journey due to a tongue tie, or addressing sleep apnea so the child can sleep normally – is her greatest motivation.
She treasures each child as an individual and appreciates spending time getting to know and learning who they are. Dr. Gouri equally enjoys connecting with and building relationships with parents, providing support, education, and guidance as they raise their family.
Dr. Gouri's gentle and kind manner sets children at ease, and she excels at making sure they know they are heard, respected, and safe. With her focus on prevention, and early diagnosis and treatment of dental concerns, she helps children mature into young adults with healthy smiles and a dedication to caring for their oral health.
Education
Dr. Gouri was drawn to the dental field, and the pediatric dentistry specialty, out of a love for children and a desire to improve their health and wellbeing. Knowing the mouth and airway are the body's first line of defense, she focuses on establishing optimal oral health at an early age, and then educating patients on maintaining that health for a lifetime.
Prior to becoming a pediatric dentist, Dr. Gouri completed her:
Bachelor of Arts in English at Tufts University in Massachusetts
Doctorate of Dental Surgery (DDS) at Louisiana School of Dentistry in New Orleans
Two-Year Pediatric Dentistry Residency at Children's National Medical Center in Washington, DC
Specialized Focus
In becoming an Ambassador of The Breathe Institute, Dr. Gouri has pursued her passion of helping ensure children's facial growth is harmonious with proper nasal breathing, oromotor control, and airway development. Additionally, Dr. Gouri is trained to identify and treat tongue and lip ties at an early age, even in newborns, to aid in proper feeding, speech, and breathing later in life.
Dr. Gouri's advanced education and extensive experience in early diagnosis and treatment of breathing and developmental concerns is well-known. She has been an invited speaker locally, regionally, and nationally, presenting education on the importance of identifying tongue ties, as well as speech, feeding, and breathing problems, early.
Continuing Education and Professional Affiliations
Dedicated to providing patients with optimal care in the safest manner, Dr. Gouri stays up-to-date on the latest dental treatment and sedation guidelines. As a result of her constant pursuit of knowledge and training, Dr. Gouri is:
Certified in Laser Dentistry with the World Clinical Laser Institute
Certified in Tongue and Lip Tie Diagnosis by Tethered Oral Tissues Specialty Training (TOTS)
Dr. Gouri is a Board Certified Diplomate of the American Board of Pediatric Dentistry and an active member of the:
American Dental Association
Louisiana Dental Association
Acadiana District Dental Association
Seattle Study Club (local chapter)
The Breathe Institute
American Laser Study Club
Academy of Laser Dentistry
Through these organizations, Dr. Gouri is able to learn from the leading researchers and practitioners in oral healthcare and the pediatric dentistry specialty.
Beyond the Office
A Louisiana native, Dr. Gouri has practiced in Acadiana since 2008. She and her husband, who was raised in New Orleans, have two daughters and spend much of their free-time supporting the girls' numerous activities and interests. The family loves traveling, too, along with cheering on the Saints, exploring and enjoying food, and time with family and good friends.